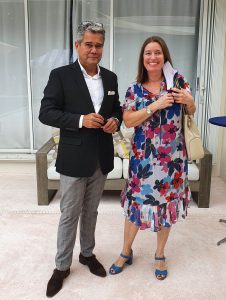 Last week, Sunday, May 9, 2021, Mr. René Römer, Senior Commercial Advisor at the Dutch Caribbean Securities Exchange ("DCSX"),  attended an event in Miami co-organized by the European American Chamber of Commerce (EACC) in Florida with the Consulate General of France and Consulate General of Germany to celebrate Europe Day.
The event was attended by the Consul Generals of Italy, The Netherlands, Spain, and Romania, and guests from Florida's transatlantic business community.
The invitation was extended to the DCSX, a member of the EACC Flordia Chapter since November 2020, through Mrs. Christina M. Sleszynska, Executive Director of the EACC in Florida. In the accompanying pictures Mrs. Sleszynska together with René Römer and being introduced by the French Consul to deliver a speech on the goals of the EACC.