The Virtual Island Summit 2020 organized by Island Innovation from September 7 to September 13, 2020, is a free online event designed to connect global islands to share their common experiences through a digital platform.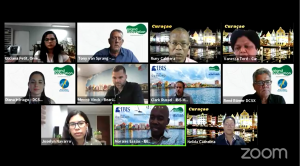 We were invited by the Ministry of Economic Development of Curaçao to participate in the session "Island 2 Island Solutions: Curaçao's Technology-Driven Companies" alongside Omega Engineering, Bearingpoint Caribbean, and IBIS Management Associates Inc on September 9, 2020.
The Virtual Island Summit served as the platform to showcase some of our local companies that can provide solutions to Small Island Governments and their private sector. Curacao's best practices were showcased as follows:
The Use of sustainable technologies with existing island resources water, sun, and wind by Omega Engineering;
Software Solutions for Tax, AEOI, Social Security, and Permits & Licensing by Bearingpoint Caribbean;
Solutions for Secure Digital Banking, as well as COVID 19 citizen mobility & traveler border control management systems by IBIS Management Associates Inc.;
The delivery of high-end services in the information value chain, stock/investing/wealth management by DCSX.
Rene Romer (Senior Commercial Advisor) and Diana Intriago (Commercial Advisor LATAM) showcased the services of the Dutch Caribbean Securities Exchange known as the DCSX, a securities exchange established in Curaçao since 2009 and supervised by the Central Bank of Curaçao and Sint Maarten.
Rene explained the reasons to have a securities exchange in Curaçao, an autonomous island within the Kingdom of the Netherlands, including the fact that the island's strength in international finance services since the 1940s. He further elaborated on developing a capital market in Curaçao and why it was important to focus on both local and international markets. Only focusing on our local market would not have been feasible to maintain the exchange since its incorporation.
The mission statement of the exchange is "creating prosperity by connecting investment opportunities to investors". Diana highlighted the fact that even though this is the mission statement it should not be confused with a crowdfunding platform. Rene proceeded to explain the difference by showcasing the DCSX structure. The companies who wish to list must first choose a listing advisor that will guide through the listing process. The company does not directly come to the DCSX with listing requests.
Rene continued to explain the reason for initially naming the exchange a "securities" exchange and not a stock exchange. The main reason is that management had the vision to not only focusing on stocks but also bonds, Fund Shares, and leaving the door open to other types of securities that comply with the regulator's requirements including crypto-assets. For crypto-assets and other tokenized securities. Rene is of the opinion that to establish regulations for these should not be complicated. It can easily be resolved if the company is treated as if they have issued a stock or a bond and should then comply with the requirements of a stock or a bond.
Rene proceeded to explain how the process works for an IPO and a Private Placement to be listed (Tradeable or Technical). He further emphasized that having applied for a tradeable listing to raise funds does not automatically guarantee that those funds will be obtained. The issuer needs to understand the importance of selling the listing by promoting it to private and institutional investors with the help of their selected listing advisor and brokers.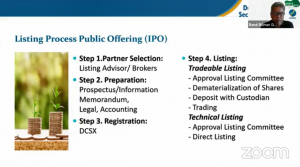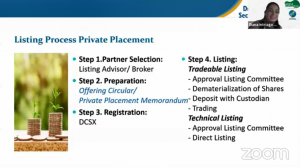 Rene continued with listing the benefits of using the listing services of the DCSX including:
For Technical Listing
Opportunities for mergers and acquisitions
Value for Existing Shareholders
Corporate Governance & Timely Disclosure of Corporate Information
Brand Value Creation and Profile elevation
Marketability of Securities
For Tradeable Listing
(International) Funding and Exit route
Opportunities for mergers and acquisitions
Value for Existing Shareholders
Reduced Reliance on Debt Financing
Corporate Governance & Timely Disclosure of Corporate Information
Brand Value Creation and Profile elevation
Fair Value and Collateral Value of Securities
Creation of a Liquid Market
Marketability of Securities
Further Capital Raising Options
Succession Planning
Attract and Retain Talent
Supervision and Control when Trading in Securities
He finalized the presentation remarking how people usually think that listing on a securities exchange is expensive and the process takes very long. With DCSX that is not the case, DCSX offers competitive prices for mature startups and SMEs and the listing process takes usually 2 to 3 months depending on the delivery of all required Due Diligence Information.
We would like to thank Vanessa Toré, Director of Foreign Economic Cooperation at Ministry of Economic Development of Curaçao and one of the Curaçao Ambassadors of the Virtual Island Summit 2020, for inviting us to participate in this Island 2 Island Session. We also want to thank James Ellsmoor, Founder of Island Innovation, and the main organizer of the Virtual Island Summit 2020.