On September 2, 2020, took place the first edition of the webinar series Miércoles Bursátiles de las Américas (Capital Wednesdays of the Americas) titled the "Impacts of Covid-19 in the AMERCA region". Capital Wednesdays of the Americas is a series of free webinars on Wednesdays at 9:00 am (Guatemala Time) during the month of September organized by AMERCA – Asociación de Mercados de Capitales de las Américas.
Mr. Gary Barquero Arce (Gerente General, SCRIESGO) elaborated on what SCRIEGO is doing as a renowned rating agency and its collaboration with AMERCA. Preparing information and analysis reports for AMERCA is an example of this recent collaboration. The first round of reports was prepared. DCSX as a member of AMERCA was included in this report with its 2 tradeable listings: Building Depot Curacao B.V. and Staatsolie Maatschappij Suriname N.V. On his turn, Mr. Barquero Arce used our tradeable listing Building Depot Curacao B.V. as an example to explain the structure of the report.
Mr. Jorge Chávez Villalta (Subgerente Regional, SCRIESGO) proceeded with a general analysis of the COVID-19 impacts on the economy in the countries of the AMERCA region and the principal challenges they are facing in order to reactivate their economies.
The PDF version of botch presentations can be downloaded here: https://scriesgo.com/News/detail/215/scriesgo-en-el-evento-de-amerca-miercoles-bursatiles
The next session of the webinar series will be next Wednesday, September 9, 2020 at 9:00 am, Guatemala Time, which is equivalent to 11:00 am, Curacao Time with the topic "Cross Border Operations. Opportunities". The presenters will be Mr. Gustavo Monge, Gerente General of Interclear Central de Valores, Mrs. Lerzy Batista, Gerente General of Latin Clear, and Mr. Iván Juárez, Gerente General of Atlántida Securities. The presentations will be provided in Spanish.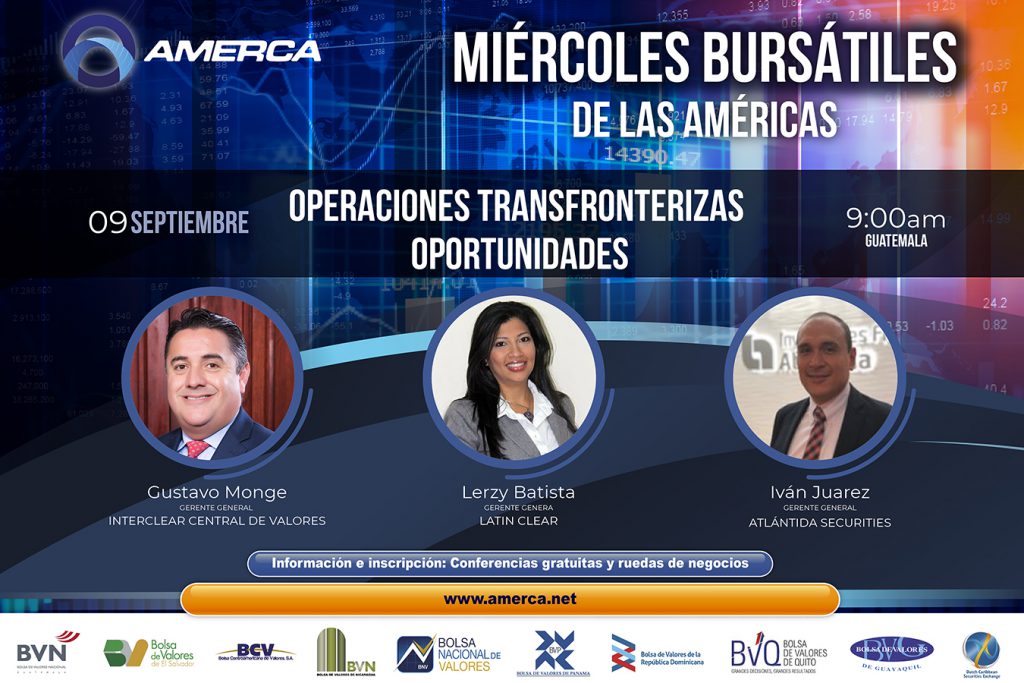 This is a unique opportunity for the financial sector of the Dutch Caribbean to arrange business meetings with peers from Ecuador, Panama, Costa Rica, Nicaragua, Honduras, El Salvador, Guatemala, and Santo Domingo. Participation in these meetings is only allowed to collaborators from the different sectors of the financial/capital markets, the general public will not have access. The business roundtables will be held on September 9, 16, and 23 and will be open from 10:00 am to 6:00 pm Curacao Time. When you register, you are automatically registered to participate and coordinate these meetings.
Make sure to register at https://www.amerca.net/es/miercolesbursatiles