The Dutch Caribbean Securities Exchange ("DCSX") wishes to express its sincere gratitude to Mr. LI Chen, Commercial Consul of the Chinese Consulate General in Willemstad, Curaçao for taking the time last July the 6th, 2021 to attend a virtual courtesy meeting with representatives of our exchange.
The offices of the Consulate General of the People's Republic of China in Willemstad are situated at Schottegatweg Oost 32. The meeting was arranged with the cooperation of Mrs. Vanessa Toré from the Ministry of Economic Development of the Curaçao Government and Mrs. Vanessa van Dijsseldonk and Darryllin van der Veen of the Office for Foreign Relations of the Prime Minister of the Curaçao Government. On the side of the DCSX, the participants were Mr. René Römer, former CEO of the DCSX and present Senior Commercial Advisor, and Mr. Frank Lammers, Non-Executive Board Member of the DCSX.
During a very amiable Zoom encounter, we as the DCSX got the opportunity to explain again our mission and vision and reiterate that of course also the Chinese Small and Medium-sized Enterprises ("SME's") are more than welcome to list and be tradeable on our exchange if and to the degree that they fully comply with the DCSX Rules and Regulations ("R&R"). The DCSX adheres very stringently to its R&R which provides a practical, transparent, fair, and safe environment for companies to expose themselves internationally and/or seek capital and/or create liquidity for their existing shareholders base. Safeguarding the interests of the investors is an ever-leading principle.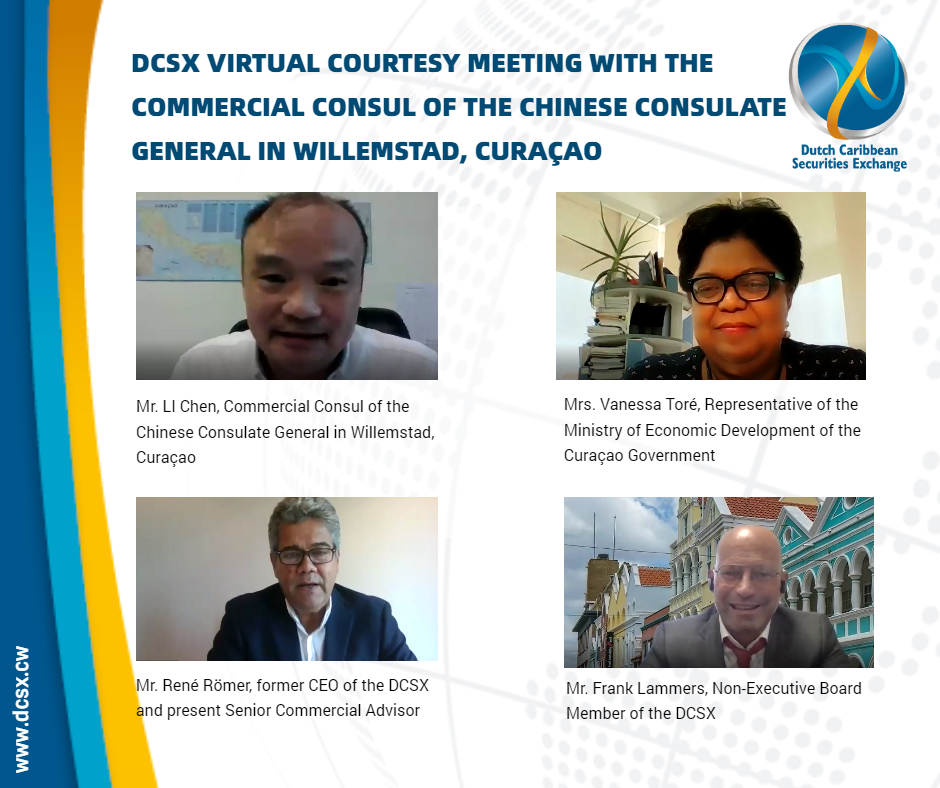 The Commercial Consul Mr. LI Chen, in an extremely well-prepared way, was kind enough to explain to us the latest developments and views by the PRC's Government in the area of Chinese Securities listed abroad. He agreed to send us the necessary links for our review and perusal and we agreed to stay in contact and expressed the wish to hopefully soon be able to meet again in person.